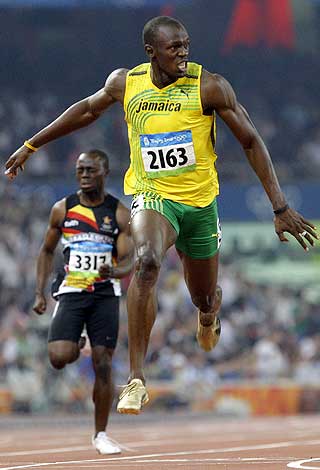 Usain Bolt fra Jamaica har vunnet 100m og 200m + satt ny verdensrekord på begge løpene (09,69 og 19,30). Mester E mener at dansefeiringa etter 100m løpet lignet på gully creepa dansen. Alt for fett!! Real Jamaican! Her kan du se 200metern på nrks nettsider og HER kan du laste ned 100metern hvor noen kommenterer dansinga etter løpet;

"I think thats the jamaican dance "the gully creepa" brought international to Beijing by the world fastest man, Usain Bolt"
Husk å få med dere 4x100m stafetten, Jamaica er favoritt med både Bolt og Powell på laget.
Konshens har laget en dub til OL-deltakerene fra Jamaica av
Winner
låta. Låta er en av låtene som har fått Konshens hypa som en av de nye artistene klar til å ta over dancehall scena, Joddski seh so @
730.n0
.
Konshens - Winner Tribute
(Olympics 2008)
mp3:
Konshens - Winner Tribute (Olympics 2008)
Sjekk hva The Jamaican Star sier om dansinga til Bolt
her
. Danseren som lagde
gully creepa
dansen har sagt at han skal lage en dans som skal hete
Usain Bolt
!! haha, dette tar helt av!
Elephant Man har også laget en hyllest til Bolt på Nuh Linga riddimen, som Bolt også har blitt observert danse under Bejing OL;
mp3:
Elephant Man - Usain Bolt Nuh Linga
(thnx Draahpaa)
This year Jamaica ah di WINNER!
http://www.myspace.com/konshenssojah
http://www.myspace.com/elephantmandj